Great course run by a great guy.Highly recommended
Robert barbarich
---
I must say this was a pleasurable course to do.
Michael made the theory part so easy to understand with his pre course questions & answers session, then the practical demonstrations. Great tutor, great boat and the lecture room facilities are brilliant .A big thank you from
Jackie & Steve Walters
---
Yahoooo
i got my recreational Skippers Ticket thanks to Sea Safe Boat School! I learned a lot from their classes which greatly helped me during the assessment for the RST. Sea Safe is the best boat school! Thanks Mike, Danielle Wyatt  Maylands August 2016
I have done many courses but this one was very informative , well planned and executed by a master
Shane Mc Arthur
---
A well set out course with a great instructor and good value for money! Highly recommend!
Max Williamson
---
I took my skipper's ticket by enrolling with Sea Safe Boat School. Michael's approach to teaching using a classroom environment allowed me to understand the requirements and theoretical aspects better. The question and answer session was very useful with examples shown in the class and on the board. For someone who has never had any prior experience, I found the training offered very useful and enjoyable.
I would certainly recommend Sea Safe Boat School to any of my mates who may be interested.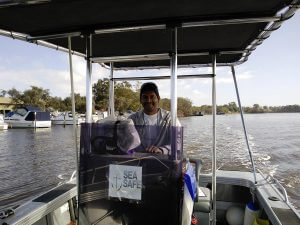 Sivabalan Shumungam
---
Hi Michael,
Thanks for your time today, we are glad we chose Sea Safe Boat School to obtain our skippers license.
Very professional with some great tips that could save our life!
Devon Hollywood
---
Hi Michael, on behalf of Adam and myself we would like to thank you for the skippers ticket course we attended on Sat. 7th May. As an instructor your dedication and experience put us both at ease with the course. We learnt a lot and had an enjoyable time in the company of yourself and other students. Adam said "watch out for the boat hook " while doing the man overboard test. For my part I thoroughly enjoyed my trip in the rain on the Deadliest Catch but sadly no crabs or fish. Both Adam and myself have
no hesitation in recommending you and your boat school in the future.
Keep up the good work.
All the best for the future.
Alan Webb
---
Thanks for everything mate!
The course was an absolute dream, given my lack of experience in a boat I was a bit apprehensive about the practical but within a few minutes I felt confident that I was going to be alright everything was explained and demonstrated in an easy to understand manner made it a breeze. There were a few questions I wouldn't have passed if it wasn't for the theory we went over in the beginning I really appreciated the diagrams and examples of signs which helped my understanding of going through channels, who has right of way as well as things such as which sign means what and where possible dangers lie.
Overall I thoroughly enjoyed my experience and am glad that I did it with you guys I think you're running an excellent program and will happily be recommending your course to my friends
Rowan Edwards
---
Thanks Michael. It really was a great experience. I would highly recommend to any one thinking of getting their RST. We did the silver course, and having been on the water for many years I still learned a heap from Michael. This bloke truly knows his stuff and he cares about the people he is teaching. Definitely not a money grabber
Nick
---
Thanks Michael for your patience and guidance with the revision and skippers course today.   It is such a relief to finally have our skipper's ticket. The whole process was way out of my comfort zone but with your help and guidance it made it so easy. Well done and thank you once again.
Suzie, Luke and Sophie Waldram
---