Skippers licence Perth – At Sea Safe Boat School, we are committed to teaching  you to a standard that will make sure you and your friends and family enjoy safe boating by passing on multiple skills that have been gained over many years sea experience and many sea miles.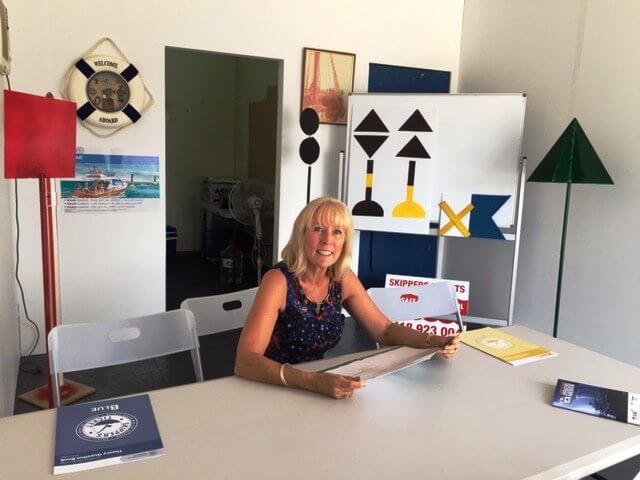 There are multiple boat schools to choose from, all with varying degrees of sea experience and varying prices.
Customer service at Sea Safe Boat School
Spending many hours at local boat ramps and watching various other boat schools teaching students who are sitting on a park bench in full sun gave me a great insight into what the customer needs and expects so we have opened our new modern Air Conditioned facility.
In the summer and winter, you will be able to complete your theory in a modern air-conditioned lecture room with tables & chairs, tea, coffee, iced water , free parking , at the waters edge in the beautiful Maylands marina situated at 38 Hardey Road Maylands.
Our instructors at Sea Safe Boat School will be professional, punctual and wearing identifying uniforms.
All our vessels are kept in top condition, are purpose built and easy to manoeuvre.
Most people get nervous before doing a skippers course and we at Sea Safe Boat School realize this, so we offer relaxed, stress free courses with a coffee, iced water , and your instructor who will answer all your questions prior to your quizz.
What makes Sea Safe Boat School different from the others?
Several years working in the Arctic Circle means that skills like man overboard, vessel manoeuvring and crew safety was all done in real life many times.
An average trip to the arctic fishing grounds was 25 days at sea, 72 hours at home then away again for another 25 days with a working day of 18 hours .
To my knowledge, there are not many people in Perth with this amount of sea time experience.
Owning and operating varied charter boats also added to my long list of commercial and recreational boating skills. Some of you may recognize me from my years as a trainer and assessor for a local  boat training organization and also former owner of Dolphin Scuba and Dolphin Charters.
Let's discuss more, send us a message or a call and we will answer all of your questions regarding the skippers ticket Perth, by clicking the button below.