Anna Walter Tom Dani I totally agree 😁 Mike, you knew exactly how to keep us calm, and created a fun and really enjoyable learning environment – thank you! So happy to see the dolphins return too! We wouldn't hesitate to recommend Mike for your Skippers ticket training and assessment 👍🏼
---
Thanks Mike for a great morning
We learnt alot and your calm demeanour and quality jokes made it so much easier and fun. If you need a Skippers ticket, go see Mike an absolute legend.
Tom Dani  12/9/20
Great morning
---
Cullen Long
Great work Mike. Highly recommend this course to anyone looking at getting a ticket 👌 11/9/20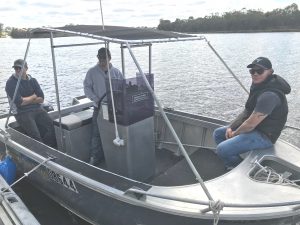 Great work
---
Greg Mount-Bryson 4/9/20
What a truly great instructor. Mike put me at ease the moment I walked in the door. He explained every question in a way that was so easy to understand. Then the practical was demonstrated in a step by step fashion that made it so easy to pass. Thanks so much Mike, you are brilliant.
Hi Greg thank you for the glowing review. I get such a lot of pleasure knowing that we at Sea Safe are helping to keep families safe and enjoying our beautiful waterways. I must say you was a model student great guy and really studied hard. See you on the water. Regards Mike
Put me at ease
---
Thanks Mike today was awesome , you made us feel relaxed whilst being professional & thorough, happy to recommend Seasafe Boat School to anyone. A shout out to Jesse for helping out as well. 30/8/20
happy to recommend😁
---
Thanks for a good morning Mike! A very experienced and knowledgable British seaman who makes a fine cuppa  28/8/20
Great cuppa tea
---
 Thanks for your great instruction today Mike. Your vast experience showed. Any question asked was answered (no matter how silly!) and the stories in between were eye opening. Look forward to the Radio Operators test next week. Cheers Al. 22/8/20
Many thanks
---
Great bloke great teacher good price nice spot on the swan couldn't fault this organisation one bit 100% recommended for anyone keen to get out on the water 18/8/20
Dont go anywhere else
---
Mike is amazing! I wouldn't want to go anywhere else or with anybody else. He made me feel calm and explained everything so thoroughly.
Thank you Mike you really are the best! 7/8/20
Amazing
---
Paul Armstrong Hey Mike thanks so much for your tutoring skills, I certainly didn't arrive at this course with an avalanche of confidence. So thanks to your indepth training I'm ready to take my boat out.
Cheers Paul 4/8/20
In depth training
---
Copyright all rights reserved 2019 © Sea Safe Boat School. Website by Somsweb