Could not recommend this course anymore! Michael was a legend! Extremely knowledgeable and helpful, was a very enjoyable day and made learning very easy! 100% would recommend to anyone interest in getting there skippers ticket
Extremely helpfull
---
Great trainer, small classes so questions get answered, awesome little boat for doing the test in. We got some crazy weather but the day over all turned out awesome 😁
Awesome boat for training
---
Wouldn't go anywhere else for your skippers ticket! I booked with a school just to be let down 2 hours before the test ! But was recommended from a friend to go to this school and best decision I made was cheaper and was not let down! Training was professional and safe
Professional and safe
---
Mike came highly recommended by a friend !! He explained everything and more that was required for the theory and practical tests. Would recommend doing the pre-assessment theory workbook before the test date. This is also supplied by mike online when you book with him. Thanks Mike, Great service 5*
Explained all that was needed
---
Great experience ! Mike a well informed and competent operator and trainer , explains operations well , recommend 100%
Good operator
---
Hi Michael
As you know i am french so this course was a bit nervous for me but with your great teaching i passed.
Thank you so much. Justine Barry
Thank you for a beautiful morning on the River
---
Had a great experience the course was presented just right all good, cheers Mike
Just right
---
Hi Mike
Thanks again for today, we really enjoyed it and appreciative of all the tips and the high standard you were expecting.
Look forward to catching up in the future, and will recommend you for anyone going for their ticket
Best Regards
Ged and Ben Styles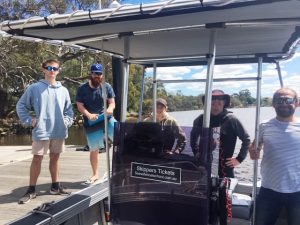 High Standard
---
Great course just did mine today Michael was brilliant and really makes ya feel confident 15/9/19
Now confident
---
Really awesome day, Mick is an awesome instructor, intelligent guy,
Highly experienced, has the knack of assisting you to understand and retain the regulations about water and boat safety, as it is quite in depth. Friendly kind manner. A really enjoyable experience. I learned a lot. Thanks Mick.
Highly recommended
A thoroughly enjoyable course
---
Copyright all rights reserved 2019 © Sea Safe Boat School. Website by Somsweb