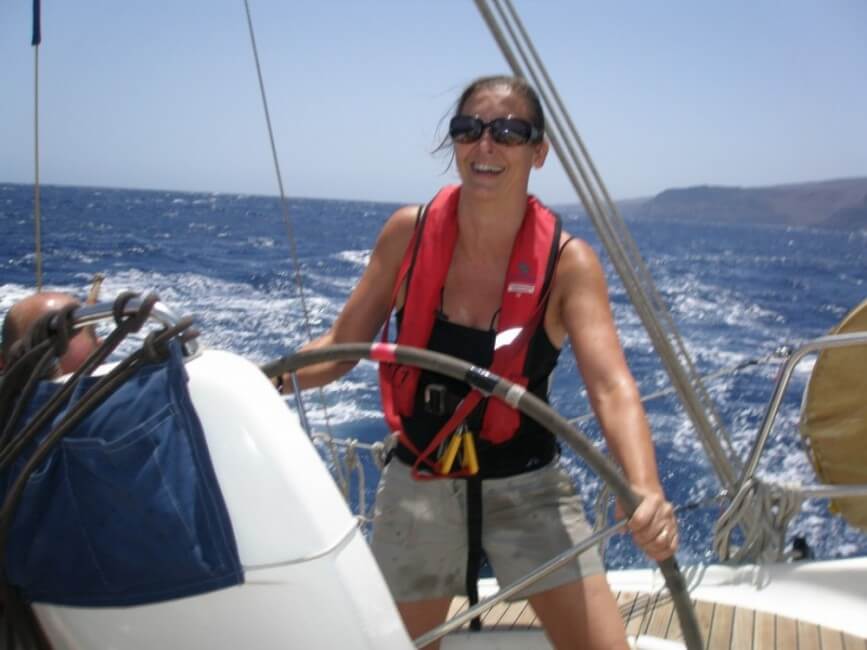 Boating is considered a pleasant pastime, be it with your family and friends or even if you just want to go boating alone. Boating is fun, especially if you have your own Skippers Ticket, you can go on a leisure cruise or a romantic rendezvous with your loved one. It can also improve your health because boating comes with varieties of health benefits. But before you can fully enjoy boating, you have to learn boating and earn your Skippers Ticket and the best way to do that is to enroll now at Sailing School!
Sea Safe Boat School is a leading Sailing School that offers boating programs suitable for any ages. Enrolling at a boating school will help you learn all you need to know about boating, from the vessel to the boating equipment and your responsibilities as a boater. You will also know the safety equipment and precautions when you are boating. All these are made possible by our professional Skippers who are more than willing to give their knowledge to our students.
Here are more Reasons why you should Enroll at Sailing School
Gain Theoretical Knowledge
If you enroll at a boat school, of course, you will learn the basics and learn about the safety aspects of boating. You may find it boring but the informative portion of learning aims to help the students to understand the way boat works. It also helps them understand the basic activities when boating. After all its all part of a safe and enjoyable boating experience.
Practical Awareness
If you are new to boating, enrolling at a boating school is the perfect way to gain practical knowledge. This is the part of the course where you apply the gained theoretical knowledge in action. If you haven't done it before, then it's the perfect time to do it. You'll gain on hand experience and this will help you remember what to do if set in the same situation.
The Safety
A good thing about enrolling at a Boat School Perth is that you will have a thorough learning about the safety of boating. You will also learn about the safety equipment, after all, safety first right? Before you get your Skippers Ticket, you will be taught about the responsibilities and duties of a mover. With a clear idea about these things, you will be able to perform it well when you are boating. Boating is so much fun especially if you're doing it with safety precautions.
You can also read our other articles about the Frequently Asked Questions about the Skippers License, The Boating Equipment and Sea Safe Boat School's Day Skipper Course.
When you purchase a new boat, some may think that they do not have to learn the fundamentals. Some describe boating as something as easy as pie. However, that may not be the case if something goes wrong. In this context, people new to boating or have the desire to indulge in boating is recommended to take boat handling courses to get a skippers ticket Perth from a Boat School Perth so they can make the most of traveling in the waters.
Things you'll learn from Sailing School
Knowledge
At the end of a boat handling course, you could have an additional understanding regarding the inner workings of a boat. Your experienced and well-trained instructor will fully explain to you the different factors that affect a yacht is handled. Because you will be taught on the boat, you will have a chance to apply the theories discussed and practice it while your instructor gives you a variety of circumstances. Knowledge about a said matter gives you confidence, so the next time you sail, you'll be confident that you can do the handling well, especially if you are trying to impress your friends about your new boat.
Safety
It is important to be aware that when sailing on a boat, there will be unexpected circumstances.
You'd have to think of a contingency plan fast so as not to put your life and the lives of your companion in jeopardy. When you enroll in a boat handling course, you will be thought about the proper ways of handling these situations. Not only will you be able to think of a contingency plan, but you can also reduce the probability of risking your safety compared to those who do not have an idea how to remedy the situation at hand. As they say, safety starts with the skipper.
Fun
If you know what you are doing and what you will be doing when something goes wrong, you won't have to worry that much about what might happen aboard. This will allow you to join in the fun of your companions in the boat while being aware and safe at the same time.
Signing up for boat handling courses to earn a skippers ticket Perth from a Boat School Perth is very important if you are planning to buy a boat. You can learn new knowledge; know how to incorporate safety while in the waters, at the same time, you can have loads of fun and a whole new experiences.
Are you considering finding a sailing school? Almost all of the people nowadays know how to drive a car, and they find it exciting, challenging and beneficial. If you want to try and experience more exciting driving, then Sea Safe Boat School Perth, is the perfect place for you. We will teach you the basics in driving and when you are ready, then more advanced lessons. Learning the basis of driving a boat is not totally different from learning the basics of driving a car. Though, you have to prepare yourself for a more challenging experience, plus it is more exciting because you're driving on waters.
Sailing School lessons
The Boat
The Boat lesson teaches about the boat itself; building, types, and uses. This also includes some of the general boating knowledge and skill like boater's jargon, Coast Guard Customer information line, marine surveyors and many more.
Boat Driving
From the lesson's name itself, this teaches about driving a boat and the basics of it. The basic lessons of driving a boat include Fueling, getting started, leaving a pier, and more. The basic lesson also includes the rules and to whom they are applicable for, traffic separation scheme, vessel traffic services, etc.
The Boat Power
The boat power tackles lesson about the engine and its types, selection of propeller, ignition and induction systems, flame arresters, batteries, maintenance, sprint fitting-out, and troubleshooting.
Here you will tackle the necessary equipment to drive a boat. This also includes the legal considerations, substance abuse, and boating accident reports.
The lessons stated above are just some basics since there are lots and lots of things to learn when boating. And we may have said that it is almost similar to driving a car, driving a boat could prove to be very hard. Driving a boat requires patience, time, effort and willingness and dedication to learn. It may be very difficult, but when you learn how to manipulate a boat, you will never regret learning and you will even thank you for giving yourself a chance to try this amazing experience.
Be a responsible skipper!
Sea Safe Boat School Perth does not only teach students the skills they need in boating but also mold them into responsible skippers. A skipper is always in charge of the boat and they are responsible for the safety of the vessel and the crew. Therefore, Sea Safe Boat School Perth aims to also teach students to be aware of the responsibilities of a skipper.
As a responsible skipper, there are things that should be put into consideration. One of them is speeding. Speeding on water is the same as speeding on the road, it could harm people.
Sailing School 's guidelines in being a responsible skipper
Condition — The skipper is responsible for making sure that the boat travels at a safe speed. Since conditions on the water can constantly change, a skipper should be aware of when to slow down depending on the condition of the water.
Visibility — The skipper should always be visible to other vessels especially at night. Skippers should be extra cautious when traveling at night so always make sure that navigation lights are displayed.
Other vessels — Extra caution is needed around large boats and makes sure to not speed close to other vessels to avoid accidents.
Navigation risks — The waterway is full of hazards so the skipper should keep an eye on the speed of the boat in shallow or unfamiliar waters.
Vessel limitation — A skipper is responsible for knowing the limitations of his or her vessel to ensure that the vessel is not used to its limits.
Others — The following should also be remembered:
Every boat has to have the right sized life jacket for each person on board.
Ensure that the device is operational at all times.
It is necessary to leave details of your trip and boat with a person ashore; this is to ensure that someone would be aware of where you are and when you should be coming back just in case something happens.
Watch or listen for regular updates of weather forecast before you head out to sail.
Avoid or limit alcohol intake. You never know when an emergency can happen and since alcohol impairs judgment, you may never have a chance to survive it.
Keep a proper lookout. Keep an eye on where you are going to not lose track of your way and always keep watch of obstacles.
Keep your boat to a safe speed. You should also always operate within the proper speed limit.
Maintain your system. A significant part of making the boat run smoothly is making sure the systems in the boat are running smoothly.
Enroll at Sea Safe Boat School, a sailing school!
Sea Safe Boat School Perth ensures that you will thoroughly learn all the things stated above when you enroll at us. We make sure that after you take a course with us, you will be confident and competent enough to take passengers and sail safely in the beautiful waterways of Perth.
Take the training and courses now and spend some time in the open waters. Make it your new way of spending your weekend. Treat your friends or family. Surely, your weekend will all be fun and enjoyable. See, it will all be worth it.
So what are you still waiting for? Enroll now at Sea Safe Boat School Perth and learn how to dance with the water and the wind! Contact us at 0418 923 004 or visit us online today!